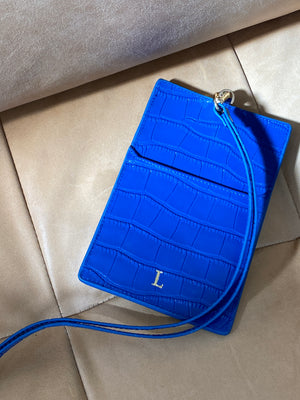 What you need to know
We give it 2 months before everyone has one of these dangling around their necks. We spotted this trend in Korea and after we'd stopped laughing we realised (as per pretty much always) that it was actually GENIUS. A pouch to keep your phone handy at all times without it actually having to be in your hand? We mean... COME ON. It's also got loads of card slots for easy access to your debit card aka coffee fund, work pass, retro Oyster card etc and a big pouch for all your tickets, receipts, love letters (we wish), random bits of paper you don't know you accumulated... 
The best bit? Your own monogram added for *free*. OBVS.  
Currently available in Green Croc, Yellow Croc, Cersise Croc, Blue Croc, Nude Croc and Black Croc.
The 411:
Real leather
Gold Hardware
Two straps, both detachable-
Dimensions- H 17cm x W 11cm x D 0.5cm 
Free gift Wrap On Request
Our packaging & note cards are 100% recyclable (yep, even the tape!), we use eco-friendly, vegan ink and once you've recycled our (biodegradable) box, it can be remade and reused in just TWO weeks. ALL. THE. GOOD. STUFF.